The worldwide Coronavirus (COVID-19) pandemic is leaving people to figure out how to protect themselves, their homes, and their businesses from potential contamination. This respiratory virus is highly contagious, and the continued spread of the disease has led to a growing number of fatalities in the United States, as well as the World.
STEAMATIC strives to be the industry leader in infectious disease and biohazard remediation, including coronavirus disinfection. Steamatic delivers the highest professional standards possible as well as the best disinfectants in the industry. It is our commitment to provide rapid emergency response 24/7 throughout the United States and the World.
YOU can have peace of mind knowing that in the event of an outbreak, Steamatic is just a quick call away at (719) 390-3872.
HOW DO WE CLEAN CORONAVIRUS?
Coronavirus is a very contagious and quick-moving virus. Through social distancing and the fast disinfectant response we can help flatten the curve, as well as keep people safe. Coronavirus can survive on surfaces for up to 17 days and can infect people without showing symptoms for many days (asymptomatic), making it difficult to track and contain. This is why having a trusted professional remediation company on your side is so important.
STEAMATIC adheres to all OSHA regulations, is certified by the IICRC (Institute of Inspection Cleaning & Restoration Certification), and strictly follows the guideline and procedures when it comes to virus cleanup and disinfection. Coronavirus (COVID-19) is still novel, so we continually consult with the Centers for Disease Control & Prevention (CDC) for up-to-date solutions. As the leader in this field, Steamatic only utilizes CDC-approved and EPA-registered disinfectants.
DISINFECTING CORONAVIRUS
Steamatic uses only CDC-approved and EPA-registered industrial-strength disinfectants.
All affected or suspect affected areas are disinfected and cleaned thoroughly.
Personal Protective Equipment (PPE) including Masks are always worn by our Certified Disinfectant Technicians
We adhere to a stringent process for cleaning and disinfecting all our equipment, trucks, and facilities daily
Coronavirus outbreak is an extremely serious situation and we understand that the health and safety of you, your family, and employees are on the line. Please Do not take any chances; call in the professionals at Steamatic: (719) 390-3872 .
PROTECTING OUR STAFF
Steamatic is ensuring the safety of our staff, customers, and company by disinfecting our office on a regular basis; encouraging our staff to stay home if they are sick and disinfecting our equipment after EVERY job. Steamatic's office is open at 2616 Verde Drive and we run a HEPA air scrubber every night to keep our Facility Virus free!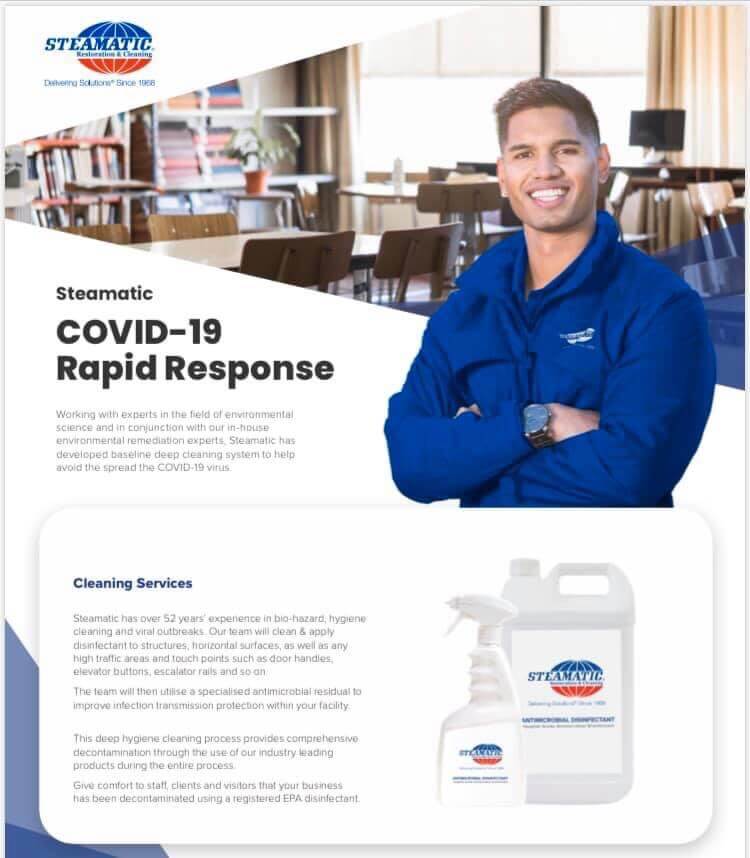 OTHER RESTORATION SERVICES
When disaster strikes, Steamatic understands that you just want to get your life back to normal. Our normal business hours are 8:00 am to 5:00 pm Monday through Friday, and we are available 24/7 to respond to your emergency.